If you're looking for a new way to experience the outdoors while social distancing, then disc golf might perfect for you! There are FIVE disc golf courses of varying difficulties right here in Pitt County: 
I tried my hand at two of them this month, and really enjoyed the opportunity to escape and get active, but still feel safe at the same time. With only one group allowed to play each hole at a time, you are only in contact with the people that came to play with you while on the course.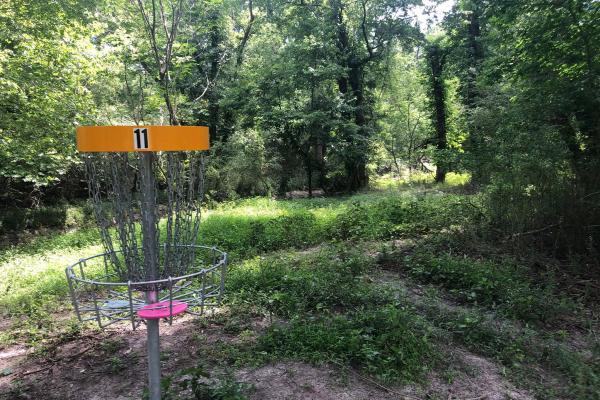 If you're new to the sport and don't know where to start, here are my 10 tips for beginners that I feel will help ensure you have the best experience:
You don't use a regular Frisbee. Special and varied discs are required: there is a driver, a fairway driver, a midrange, and putter disc.  
Prepare for the elements. Sunscreen, bug spray, water, a hat, and sunglasses are a must in the summer!
What other equipment do I need? Honestly? Nothing. If you have one disc, you can play! 
What do I wear? If playing recreationally, dress for a work out: gym shorts, athletic shirt, and sneakers. Comfortable shoes are a must, as you are walking upwards of 5,000 steps.
How do I throw the disc? I can't give the best form advice because I am a beginner, but that's what YouTube is for!
Before you start the round. Take a picture of the course map posted near the front of the course to help you find your way in between holes. Also, don't forget to stretch!
Don't keep score, at least the first few times. Why? To me, at least, it takes away some of the fun from learning the game. There are plenty of ways to see improvement without tracking the score.
Be prepared to lose a disc. I lost a disc in my first four rounds! Learn from my mistake, and write your name and phone number on the inside of your disc. Then if it gets found, hopefully someone can return it to you. 
Be okay with redoing shots. If you're playing for fun, don't be afraid of taking mulligans. When starting out not every shot is going to be perfect, and that's okay!
Celebrate the good shots and improvements. There will be shots that you are really proud of, and those shots are going to be what brings you back to play again another day!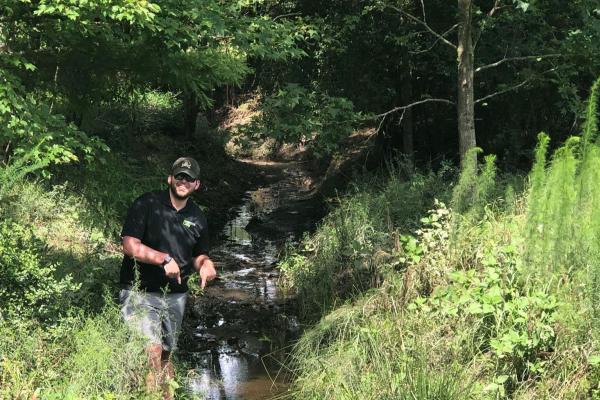 Another fun experience to round out a day of disc golf is to check out local places near the courses! When playing the Farmville Disc Golf Course, I couldn't help but notice how close we were to Little Contentnea Creek Barbecue or Duck-Rabbit Craft Brewery. Did I mention tip #11: disc golf really helps work up an appetite and you will need to hydrate after to replace lost electrolytes? I recommend the Duck Rabbit Amber Ale, especially on a summer day!