Have you been to the charming and quaint town of Bethel yet? This Pitt County town is known for an old-time charm and family-friendly amenities.
On November 4th from 11am - 5pm, join the community to celebrate 150 years since the incorporation of Bethel at their Street Fair Celebration! This event will be full to the brim of activities, special guests, family-friendly music, local vendors, food trucks, and more! Find vendors such as Sips Happems, La Casetta Italian Restaurant, Uncle Fred's Food Truck, and Painting Pixies. 
If you wish to be a vendor at the event, email bethel150celebration@gmail.com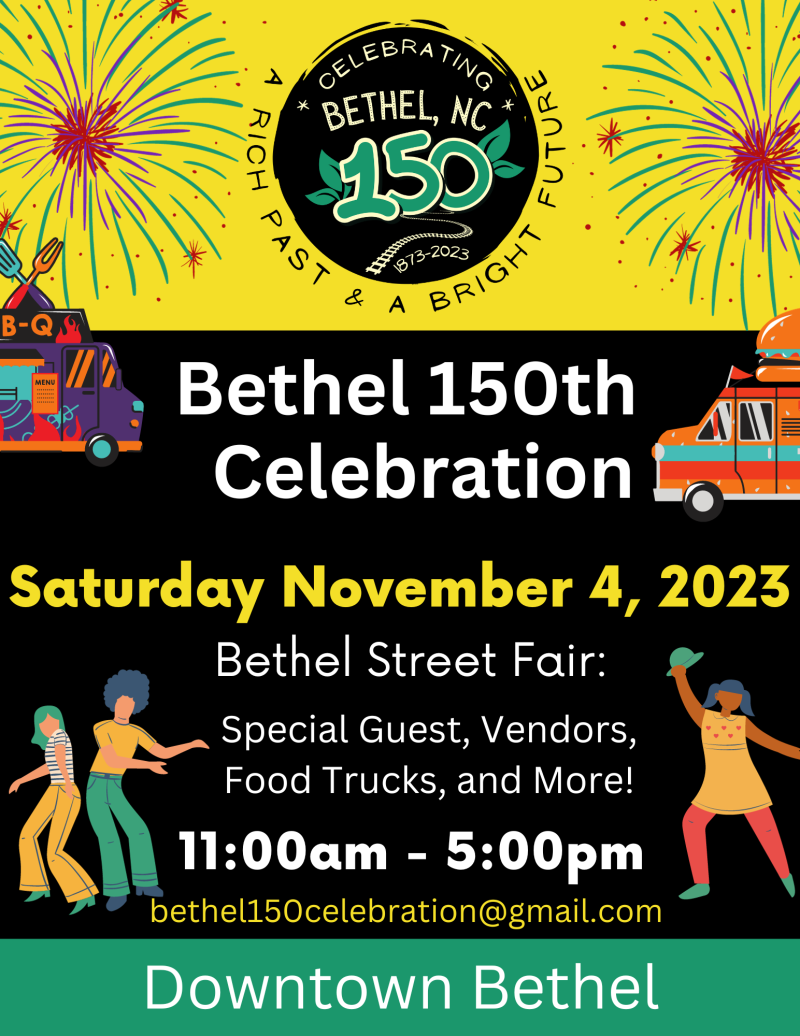 ---
The event schedule is as follows:
11:00am - Event Starts
11:30am - Community Prayer 
12:30pm - Welcome from Mayor Carl Wilson
1:00pm - Address from Representative Gloristine Brown 
2:00pm - 4:00pm - Community Performances 
4:00pm - 5:00pm - Community Dance in front of the Bethel Library 
5:00pm- Event Ends 
You can find more information on the Bethel 150 Celebration Facebook page here. 
---
Bethel, once known as Brandon, was once an obscure town said to be 16 miles from everywhere, and existed as a crossroads village until the railroad came through and the town began to grow and thrive. 
Around 1774, a road was built from Martinsborough (later Greenville) to Halifax, while about the same time another road was built from Tarboro to Williamston, forming a crossroads in the northern section of Pitt County.
In 1776, due to increased settlement in the area, the Flat Swamp Primitive Baptist Church was organized about four miles east of the crossroads. Then in 1814, a Methodist Episcopal Church was also built at the crossroads, and for some time the settlement that grew up around this church was known as Old Bethel or Crossroads. 
Around 1840, Oliver Spain built a store at the crossroads that served as a voting place and muster area for the local militia. A post office was established on April 28, 1858, at the crossroads known as Bethel, with David W. Stokes serving as postmaster.
Then in 1870, the name Bethel was changed to Brandon, which was used until the town was incorporated as the Town of Bethel on December 18, 1873.
Read more about the history of the Town of Bethel here.