Attention festival lovers and Pitt County enthusiasts! It's that time of year again when the charming town of Farmville bursts into bloom with the beautiful flowers of the dogwood tree. Get ready for the 33rd Farmville Dogwood Festival April 27 - 30 located on the Farmville Town Commons.
This year's festival will be a real crowd-pleaser, with a jam-packed schedule of events with activities for all ages. There will be live music, a wide variety of food vendors serving up everything from funnel cakes to BBQ, and rides that will thrill even the bravest adrenaline-junkies. Thursday and Sunday are one price ride nights, featuring a $25 wristband that gets you unlimited rides all night, there's a $5 discount if you purchase in advance at the Town office. 
Enjoy a Movie Under the Stars on Friday night inside Horne Avenue Athletic Field. On Saturday, make sure to head over to Dogwood Bash at 6pm, with headliners Travis Denning and Matt Stell. The concert is located at West Horne Avenue, adjacent to the Athletic Field. You can buy tickets here.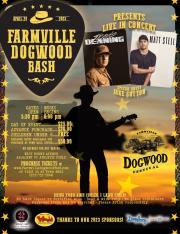 But the real highlight of the festival is the stunning dogwood trees that will be in full bloom. Visitors can take a break from the festival sights and enjoy a walk through Downtown Farmville to take in the beauty of the dogwood trees and visit local shops and restaurants. This Fantastic festival is a keystone event in Pitt County culture. It's no wonder that TravelAwaits recently highlighted the Farmville Dogwood Festival as #5 in their list of 7 Best Dogwood Festivals in the U.S.!
---
Photos Courtesy of Farmville Dogwood Festival