When you think of Greenville culture, one of the first things that comes to mind is ECU Pirate Football, and a game day staple is the community celebration the night before! Freeboot Fridays happen at Five Points Plaza in Downtown Greenville from 5:30-8:00pm the night before a home Saturday game. It is a time to show your ECU pride with food, drink, craft vendors, and some fantastic live music!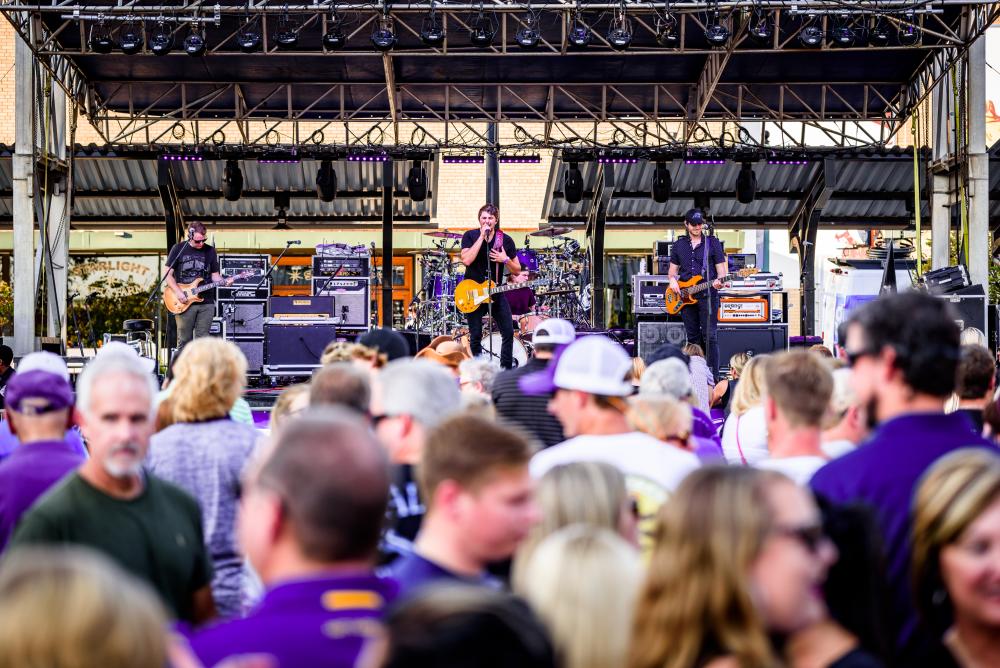 2023 Freeboot Friday Schedule
September 8 (The Vegabonds)
September 22 (Elton John Experience - The Early Years)
October 20 (Sean Kingston)
November 3 (Tell Me Lies - The Fleetwood Mac Experience)
ECU Pirate Home Football Game Schedule
(find the full football schedule HERE)
September 9 @4pm vs. Marshall (Paint it Purple)
September 23 @6pm vs. Gardner Webb (Paint it Gold) 
October 12 @7:30pm vs. SMU (Paint it Black)
October 21 @TBD vs. Charlotte
November 4 @TBD vs. Tulane
November 25 @TBD vs. Tulsa
Hitch a FREE RIDE to Dowdy-Ficklen Stadium on the Sup Dogs Game Day Shuttle offered by Downtown Greenville Partnership! This shuttle runs during every Saturday home game; starting three hours before the event, all throughout the game, and two hours after the event. Shuttle runs in 30-minute loops, with pick up/drop offs at Sup Dogs and Five Points Plaza in Downtown Greenville and at Dowdy-Ficklen Stadium.

Gameday Traditions to Know
Paint it Purple Fridays: Every Friday, Pirate fans are encouraged to wear purple where ever they are in support of the home games played the next day.
Pirate Walk: Roughly 3 hours before every game, the players, coaches, and band walk from rotating spots around the stadium to inside of it with spectators lining the route cheering them on!
Purple Haze: During every home game the team runs out of the tunnel to Jimi Hendrix's "Purple Haze"  surrounded by purple smoke.
Kickstart My Heart: Before the first kickoff of every game, Mötley Crües' "Kickstart My Heart" plays to hype the stadium up (this is a new tradition started in 2022).
Livin' on a Prayer: During every home game, the entire stadium sings along to Bon Jovi's "Livin' on a Prayer", with the main chorus cut off to let the stadium sing the part by themselves.
Purple/Gold Chant: One side of the crowd screams "PURPLE", and the other side of the stadium screams "GOLD", especially during comebacks or big plays.
Touchdown = Cannon blast (cover yer ears!)
Key Jingle: In the Boneyard student section, it's traditional to jingle your keys at the field before every ECU kickoff
First Down: Announcer Morgan Ahlers says after every first down "Where it is a first down…," letting the crowd say "Pirates!" before Ahlers follows with a "Pirates!" of his own. Example: (Winstead is down at the 35, where it is a first down… Crowd: "PIRATES" Ahlers: "Pirates"
No Quarter: If a ship refused to surrender, they risked the wrath of the pirate ship's crew. Once a battle began the Jolly Roger was lowered and replaced with a "No Quarter" flag signifying that the Pirates would now take no prisoners and give no quarter to their enemy. For ECU, at the start of the 4th quarter, a "NO QUARTER" flag will be raised signifying that they will give no mercy, and Pirate fans cross their arms in front of their chests or above their heads!